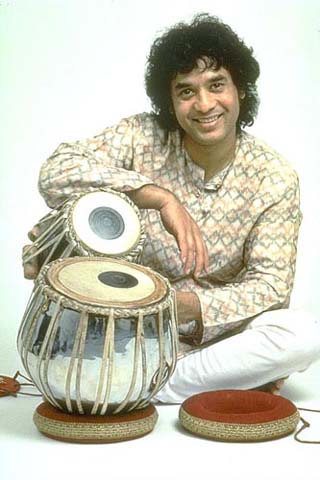 (Aproximada Traducción)
Zakir Hussain is today appreciated in both the field of percussion and in the music world at large as an international phenomenon. A classical tabla virtuoso of the highest order, his consistently brilliant and exciting performances have not only established him as a national treasure in his own country, Indian, but gained him fame all over the world for his many accomplishments. The favorite accompanist for many of India's greatest classical musicians and dancers, from Ali Akbar Khan and Ravi Shankar to Birju Maharaj and Shivkumar Sharma, he has not let his genius rest there.

Zakir's contribution to world music has been unique, with many historic collaborations including Shakti, which he founded with John McLaughlin and L. Shankar, the Diga Rhythm Band, Making Music, Planet Drum With Mickey Hart, and recordings and performances with artists as diverse as George Harrison, Joe Henderson, Van Morrison, Jack Bruce, Tito Puente, Pharoah Saunders, Billy Cobham the Hong Kong Symphony and the New Orleans Symphony. His playing is marked by uncanny intuition and masterful improvisational dexterity, founded in formidable knowledge and study.

In 1987, his first solo release, "Making Music", was acclaimed "one of the most inspired East-West fusion albums ever recorded". In 1988 he was the youngest percussionist ever to be awarded the title "Padma Shri" by the Indian Government, a title given to civilians of merit. In 1990 he was awarded the Indo-American Award, in recognition for his outstanding cultural contribution to relations between the United States and India. In 1992, his album "Planet Drum" was awarded a Grammy for best World Music Album as well as several other awards.

Zakir's compositional skills can also be heard on the recently released soundtracks for the films "In Custody" and Bertolucci's "Little Buddha".